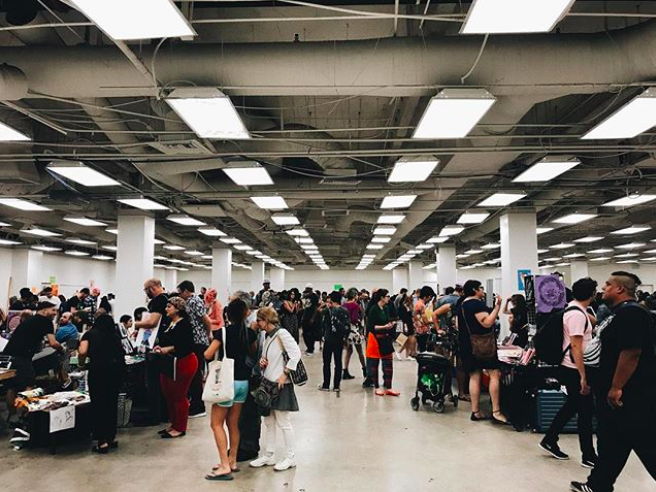 Since the first event in 2012,
L.A. Zine Fest
(LAZF) has been volunteer-run. Funds for the event are generated from a combination of table fees, merchandise sales, and year-round educational workshops.
In 2019, we began to hold the Fest at a venue that donated the space to us, eliminating our single greatest annual expense. We decided to seize on that opportunity to offer tablers sliding scale table fees—meaning that tablers can pay a table fee that they determine instead of charging everyone the same price. Sliding scale table fees acknowledge that not all tablers have the same financial resources, and seeks to make the Fest more financially accessible to all.
Sliding scale fees are something we are only able to do because our event costs decreased dramatically, but we know this arrangement won't last forever. In the meantime, we are raising funds on a continual basis to pay for event expenses and to ensure that sliding scale fees can stick around regardless of where our event is held. Every dollar helps!
Donate via Credit Card or eCheck
L.A. Zine Fest FAQ
Is my donation tax deductible?
Yes, we are a fiscally sponsored project of Fulcrum Arts Emerge Program, which is a public 501c3 organization recognized by the IRS. Your donation is tax-deductible to the fullest extent permissible by law.
WeDidIt FAQ
Is my donation and credit card info secure?
Yes, the security and confidentiality of your information is our highest priority. We will not sell, trade or share your personal information with anyone else, nor send donor mailings on behalf of other organizations, and we will only share personal information if you have given us specific permission to do so.
How do I know that my donation was made successfully?
You will receive an emailed receipt immediately after your donation is submitted and your credit card is processed. Your donation will also show up on your bank or card statement within 1-3 business days.
Do I get a receipt?
Yes, a receipt is sent to your email inbox once your donation is processed. Please be sure to keep a copy of your receipt for tax purposes. If you select a recurring donation, you will be sent an individual receipt each period when your donation is processed.
Is my donation private?
We will not share or sell a donor's personal information with anyone else, nor send donor mailings on behalf of other organizations.